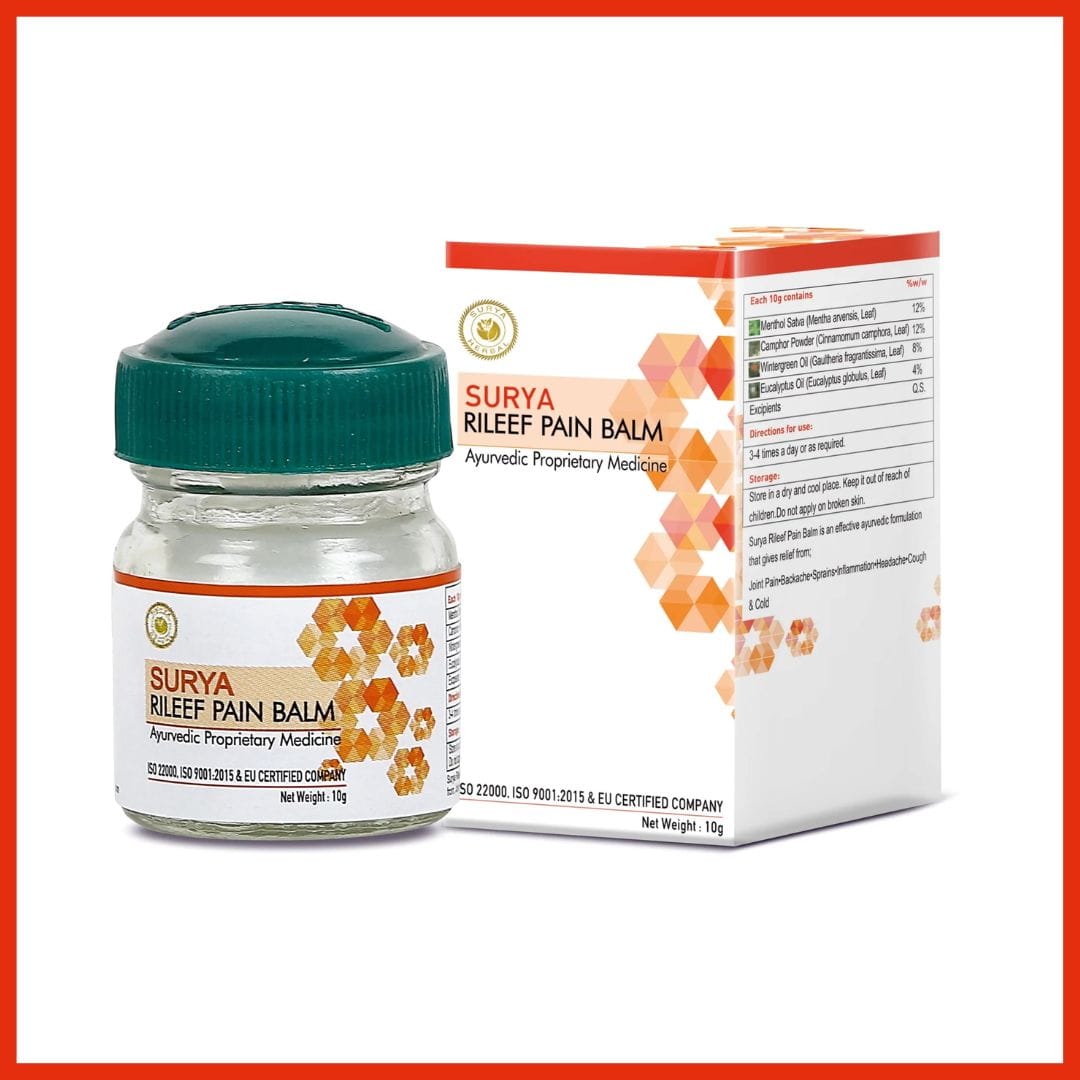 Surya Herbal Relief Pain Balm (10 gms): Natural Ayurvedic Solution for Joint Pain, Sprains and Backache
---
Surya Herbal Relief Pain Balm - Ayurvedic Solution for Joint Pain & More (10gms)

Experience the natural healing of the Surya Herbal Relief Pain Balm. This Ayurvedic concoction is specially crafted to provide immediate relief from diverse discomforts including joint pain, backache, sprains, inflammation, and even symptoms of cough and cold. Immerse in the holistic care of nature and bestow upon your body the relief it desires.

Key Ingredients:
Menthol Satva: Offers a cooling sensation and is beneficial in relieving localized pain. It's often used in balms for its soothing properties and can help in clearing congestion when inhaled.

Camphor Powder: Known for its anti-inflammatory properties, camphor provides relief from pain and swelling. It also aids in improving respiratory function and can help alleviate congestion.

Wintergreen Oil: Contains methyl salicylate, which is similar to aspirin and can act as an analgesic and anti-inflammatory agent. It's especially effective for muscle aches and joint pain.

Eucalyptus Oil: Renowned for its invigorating aroma, eucalyptus oil can help relieve sinus congestion, headache, and muscle pain. It possesses anti-inflammatory and analgesic qualities.

Key Benefits:
- Rapidly alleviates joint pains.
- Effective remedy for sprains and muscle tensions.
- Provides relief from symptoms of cough and cold.
- Reduces inflammation and associated discomfort.

Directions For Use:
For external use only. Apply a thin layer on the affected area, ensuring the skin is clean and dry, 3-4 times a day or as advised by the physician.

Safety Information:
- Ensure to read the label carefully.
- Store in a cool, dry environment, away from direct sunlight.
- Always keep out of reach of children.
FAQs for Surya Herbal Relief Pain Balm:
1. Can I use Surya Herbal Relief Pain Balm for headaches?
Yes, Surya Herbal Relief Pain Balm is formulated to alleviate headaches. Simply apply a small amount to the temples and massage gently.
2. Is this product suitable for children?
While the balm is made from natural ingredients, it's always recommended to consult with a pediatrician before using on children, especially those under the age of 5.
3. How often can I apply the pain balm?
The balm can be applied 3-4 times a day or as required. However, avoid excessive use and always follow the recommended usage.
4. Can I use the balm for cold and cough relief?
Yes, the inclusion of eucalyptus oil and menthol satva makes it effective for cough and cold relief. You can apply it on the chest and throat for best results.
5. Does Surya Herbal Relief Pain Balm have any side effects?
The balm is made from natural Ayurvedic ingredients. However, it's always a good idea to do a patch test before full application to ensure there's no allergic reaction. If irritation occurs, discontinue use.
6. Can it be applied to open wounds or cuts?
No, the pain balm is intended for external use on intact skin only. Avoid application on open wounds, cuts, or mucous membranes.
7. Does it have a strong smell?
The balm has a distinct aroma due to the natural oils and ingredients used, like eucalyptus and camphor, which many find soothing and refreshing.
8. Can it stain my clothes?
While the balm is designed for skin application, it's always best to let it absorb before coming into contact with clothing. If there's any residue, it might leave a mark, so it's recommended to apply when wearing older clothes or letting it soak in before dressing.
1. Are herbal products effective?
Yes, herbal products are considered effective. Herbal products are often overlooked, but there are many advantages to using them. Herbs and herbal products have been used for thousands of years all over the world for good reason: they have been shown to have positive effects on health without posing any significant risks.
According to the World Health Organization, around 80% of people still rely on traditional therapies, the majority of which are plant-based, as their primary source of health care.
2. How soon can I expect to notice the benefits of these products?

Herbs contain a wide variety of naturally occurring compounds. Some herbs' health benefits are felt almost immediately, while those of others are more gradual.
3. How do I know how much to use?
Each product comes with instructions on what is the suggested dosage. Kindly refer on the pack. You can also consult your physician for more information.
4. Are the products tested?
Yes, our products are tested in our in-house laboratory and at a third-party Independent Laboratory (Accredited by NABL). We only use natural herbal standardized ingredients that are tested for efficacy and quality.
5. Does these products have any side-effects?
No, our products don't have any side-effects. These products are made using 100% natural standardized ingredients that are tested for efficacy and quality.
6. Can I get products private label/contract manufacture in my own label?

Yes. We are one of the top Contract Development and Manufacturing Organisation (CDMO) located in Noida, India. We have a global presence in 32 countries so far with 150+ registered products such as herbal capsules, tablets, syrups, gels, creams, syrups, balms, eye drops, nasal drops etc. We manufacture products for major B2B pharmaceutical companies, retailers and other international marketing companies who can easily get their products customised from us under their own brand name.
7. What all certifications we have?
On our website's Accreditations page, you can see a list of all of our certificates. The link is https://accreditation.suryaherbal.com/

8. What are the shipping charges?
We charge flat ₹70 (COD ₹100) for all shipments across India. Free shipping on all orders above ₹500. For international shipping charges, please email us at exports@suryaherbal.com