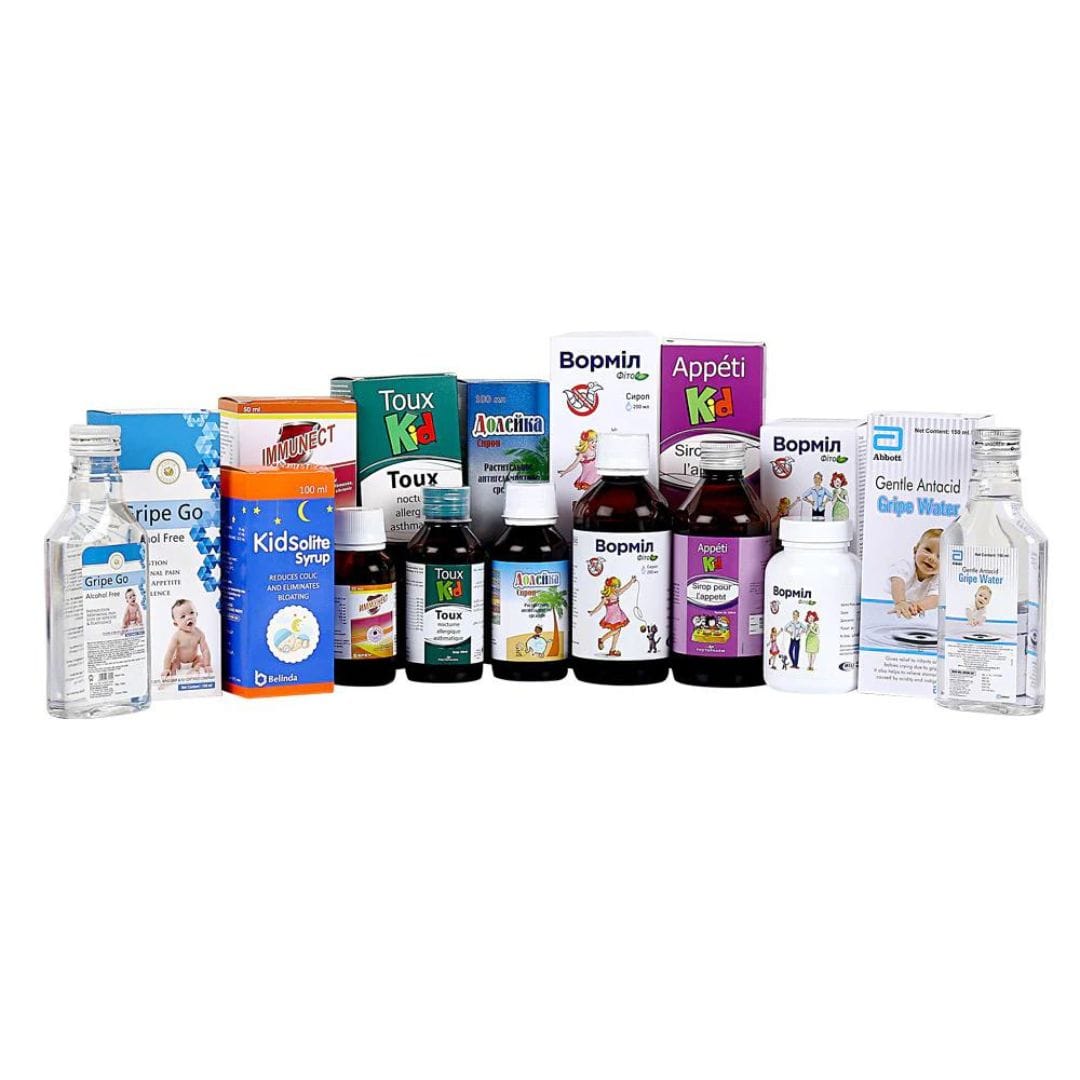 Children's Health & Wellness
---
Children's Health & Wellness – Ayurvedic Support for Growing Kids

Overview:
Nurturing a child's health and well-being is paramount. We understand this and offer a curated range of Ayurvedic products tailored for the unique health needs of children. From supporting growth and development to addressing common childhood concerns like bed-wetting, loss of appetite, and more, our products are designed to holistically care for your young ones.

Product category available: 
- Loss of Appetite
- Cough and Cold
- Indigestion
- Abdominal Bloating
- Nausea and Vomiting
- Memory Boosting
- Liver Function Support
- Calming Agitated Sleep
- Combating Worm Infestations

Available Dosage Forms:
Solid Orals: Tablets, Capsules, Granules and Powders
Liquid Orals: Syrups and Suspension
Instillation Types: Nasal Drops, Ear Drops and Eye Drops
Topicals: Creams, Ointments, Gels and Lotions
Ayurvedic Pastes: Chyawanprash
Packaging Details:
Solid Orals:
Tablets:

Available in HDPE containers or Blister pack with Monocarton . Pack sizes - 10, 30, 60, 90, 100, 120 tablets.

Capsules:

Packed in HDPE containers/Blister Pack with Monocarton. Pack sizes - 30, 60, 90, 100, 120 capsules.

Granules:

Sealed in moisture-proof packets or containers. Pack sizes as per requirements.

Powders:

Packaged in secure, airtight pouches or containers. Available in various sizes.
Liquid Orals:
Syrups: Contained in PET bottles with Monocarton. Volumes available - 60, 100, 150, 200 ml.
Suspensions: Housed in PET bottles with protective seals. Different volumes available as per demand.
Topicals:
Creams: Available in tubes, jars, or pump dispensers.
Ointments: Sealed in tubes or jars.
Gels: Conveniently packaged in tubes or pump dispensers.
Lotions: Bottled with pump dispensers or squeeze caps.
Instillation Types:
Nasal Drops: Packed in sterile dropper bottles.
Ear Drops: Sealed in dropper bottles ensuring hygiene.
Eye Drops: Sterile dropper bottles with tamper-proof sealing.
Ayurvedic Pastes:
Chyawanprash: Traditionally packed in 500 gm or 1 kg jars. Available in various sizes.
Custom Packaging: We offer bulk and customized packaging solutions to cater to the specific requirements of our customers.
1. Are herbal products effective?
Yes, herbal products are considered effective. Herbal products are often overlooked, but there are many advantages to using them. Herbs and herbal products have been used for thousands of years all over the world for good reason: they have been shown to have positive effects on health without posing any significant risks.
According to the World Health Organization, around 80% of people still rely on traditional therapies, the majority of which are plant-based, as their primary source of health care.
2. How soon can I expect to notice the benefits of these products?

Herbs contain a wide variety of naturally occurring compounds. Some herbs' health benefits are felt almost immediately, while those of others are more gradual.
3. How do I know how much to use?
Each product comes with instructions on what is the suggested dosage. Kindly refer on the pack. You can also consult your physician for more information.
4. Are the products tested?
Yes, our products are tested in our in-house laboratory and at a third-party Independent Laboratory (Accredited by NABL). We only use natural herbal standardized ingredients that are tested for efficacy and quality.
5. Does these products have any side-effects?
No, our products don't have any side-effects. These products are made using 100% natural standardized ingredients that are tested for efficacy and quality.
6. Can I get products private label/contract manufacture in my own label?

Yes. We are one of the top Contract Development and Manufacturing Organisation (CDMO) located in Noida, India. We have a global presence in 32 countries so far with 150+ registered products such as herbal capsules, tablets, syrups, gels, creams, syrups, balms, eye drops, nasal drops etc. We manufacture products for major B2B pharmaceutical companies, retailers and other international marketing companies who can easily get their products customised from us under their own brand name.
7. What all certifications we have?
On our website's Accreditations page, you can see a list of all of our certificates. The link is https://accreditation.suryaherbal.com/

8. What are the shipping charges?
We charge flat ₹70 (COD ₹100) for all shipments across India. Free shipping on all orders above ₹500. For international shipping charges, please email us at exports@suryaherbal.com