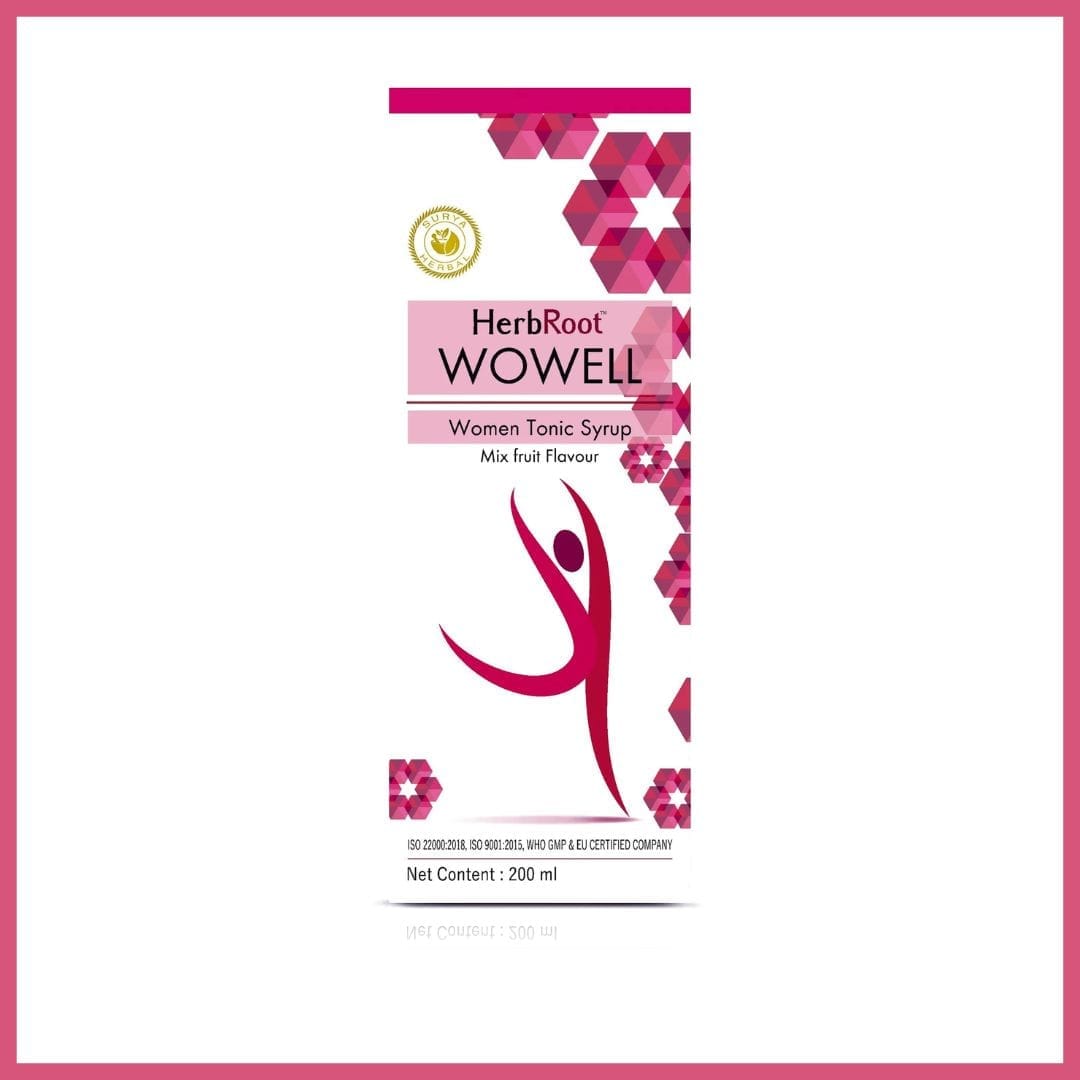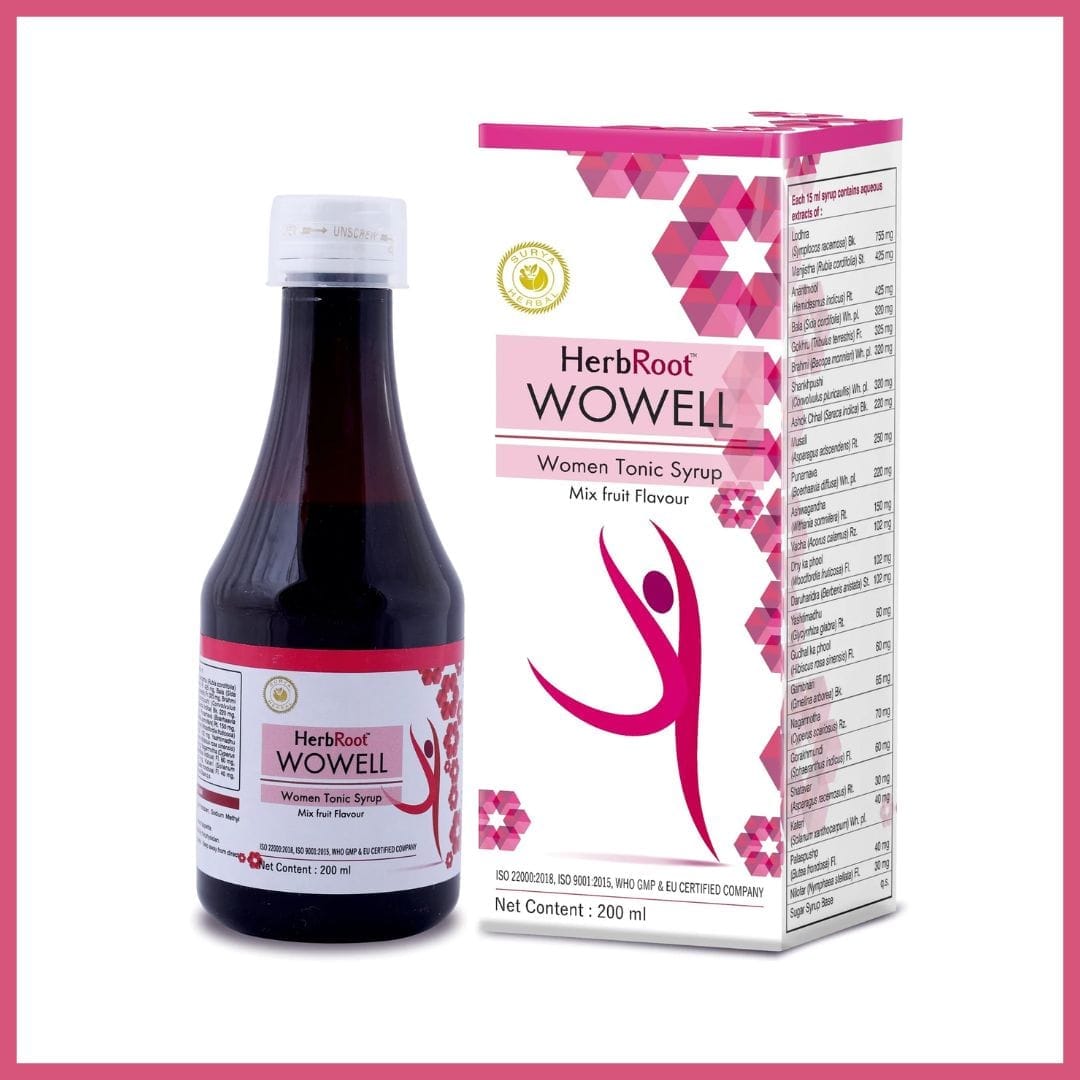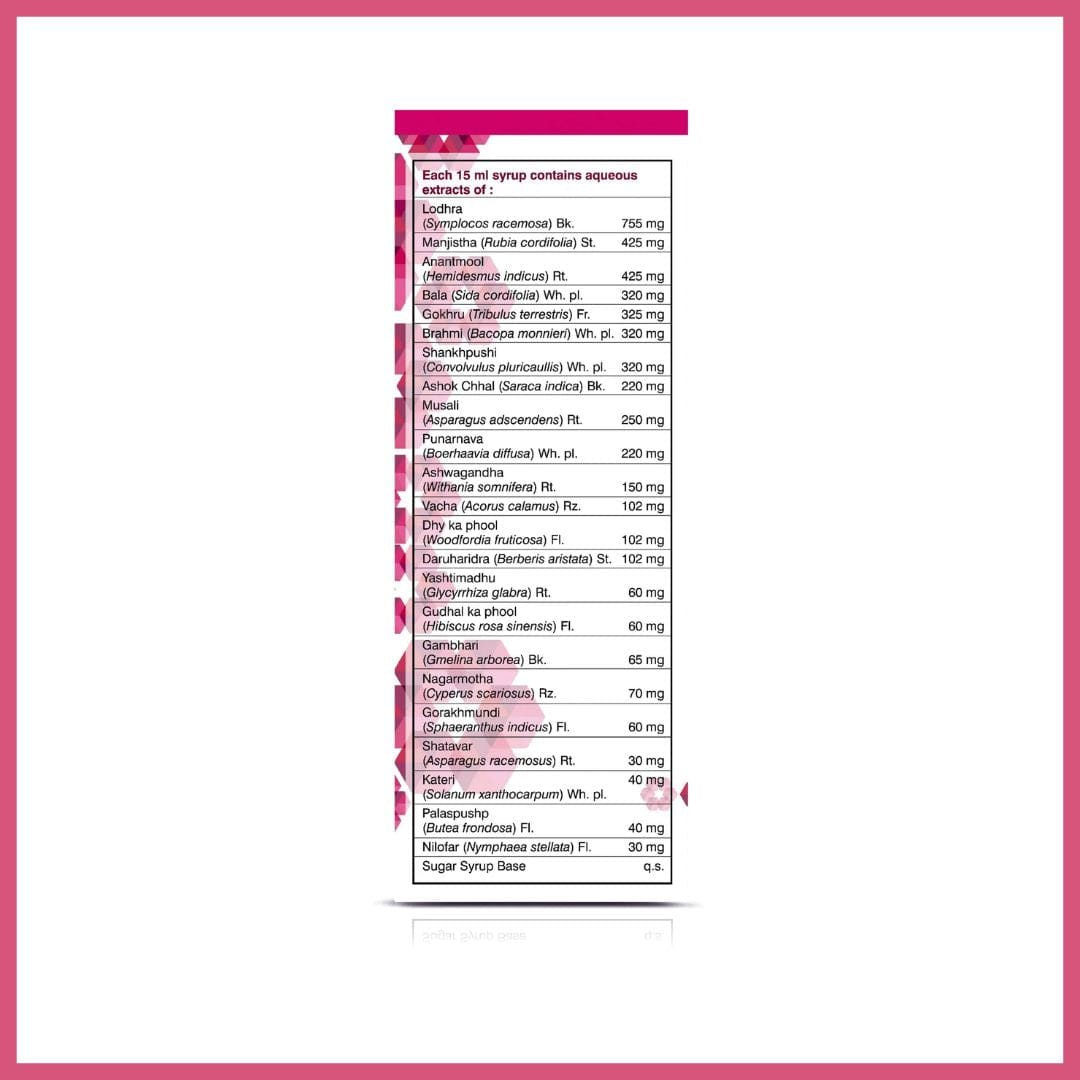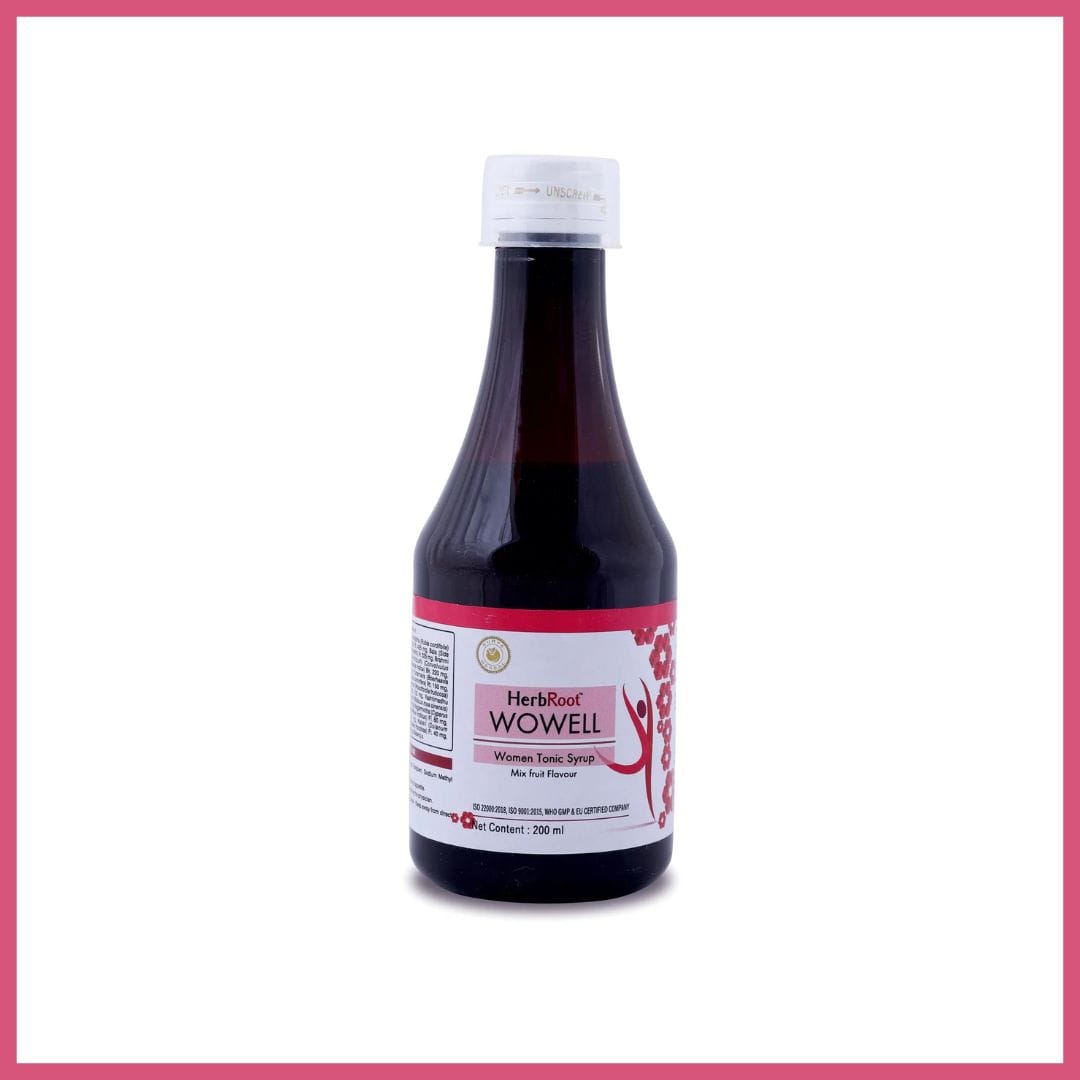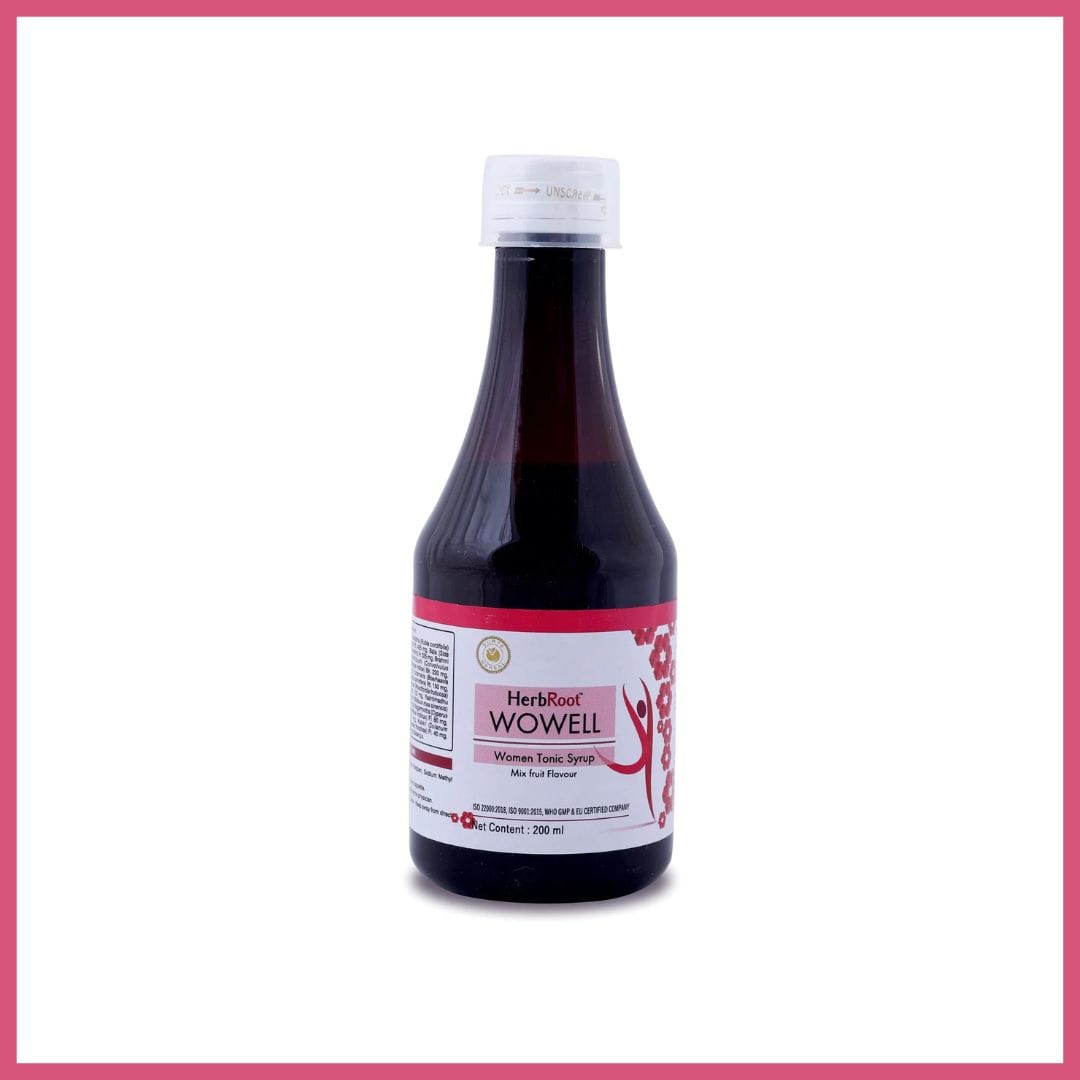 Wowell Women Tonic
Regular price
₹ 225.00
Sale price
₹ 210.00
/
---
Lodhra, Manjistha, Anantmool, Bala, Gokharu, Brahmi, Shankhushpi, Ashok chhal, Musali, Punarnava, Ashwagandha, Vacha, Dhy ka phool, Daruharidra, Yashtimadhu, Gudhal ka Phool, Gambhari, Nagarmotha, Gorakhmundi, Shatavar, Kateri, Palaspushp, Nilofar 
Surya Herbal HerbRoot Wowell Syrup (200 ml) is an ayurvedic and natural tonic syrup for women. It helps aid normal and healthy uterine function. The syrup contains Ashoka Bark Extract which is known to have estrogenic properties. It is helpful in aiding in premenstrual syndrome, abdominal cramps, and irregular menstruation. 
Key ingredients:
Lodhra bark (Symplocos racemosa)
Indian madder root ( Rubia cordifolia)
Indian sarsaparilla root (Hemidesmus indicus)
Country mallow whole plant (Sida cordifolia)
Small caltrops fruit (Tribulus terrestris)
Brahmi whole plant ( Bacopa monnieri)
Shankhpushpi whole plant (Convolvulus pluricaulis)
Ashok bark ( Saraca indica)
Shwet musali stem (Asparagus adscendens)
Shivling flower (Bryonia laciniosa)
Punarnava root (Boerhaavia diffusa)
Winter cherry  root (Withania somnifera)
Sweet flag rhizome (Acorus calamus)
Fire flame bush (Woodfordia fruticosa)
Indian barberry (Berberis aristata)
Liquorice root (Glycyrrhiza glabra)
Shoe flower (Hibiscus rosa-sinensis)
Gambhari bark (Gmelina arborea)
Nut grass root (Cyperus rotundus)
East Indian globe thistle flower (Sphaeranthus indicus)
Satavari root (Asparagus racemosus)
Kateri whole plant ( Solanum surattense)
The forest flame flower (Butea monosperma)
Water lily whole plant (Nymphaea stelleta)
Key Benefits:
It helps stimulate normal ovarian functions.
It helps to maintain hormonal health in women. 

It helps in regulating the period cycle.

Helps in providing relief from cramps during the menstrual cycle and heavy periods.

Safe and tested for long-term use
Safety information:
 Read the label carefully

 Store in a cool and dry place

 Keep out of the reach of children

Consult a physician 
Directions for Use:
2 tablespoons twice a day.
1. Are herbal products effective?
Yes, herbal products are considered effective. Herbal products are often overlooked, but there are many advantages to using them. Herbs and herbal products have been used for thousands of years all over the world for good reason: they have been shown to have positive effects on health without posing any significant risks.
According to the World Health Organization, around 80% of people still rely on traditional therapies, the majority of which are plant-based, as their primary source of health care.
2. How soon can I expect to notice the benefits of these products?

Herbs contain a wide variety of naturally occurring compounds. Some herbs' health benefits are felt almost immediately, while those of others are more gradual.
3. How do I know how much to use?
Each product comes with instructions on what is the suggested dosage. Kindly refer on the pack. You can also consult your physician for more information.
4. Are the products tested?
Yes, our products are tested in our in-house laboratory and at a third-party Independent Laboratory (Accredited by NABL). We only use natural herbal standardized ingredients that are tested for efficacy and quality.
5. Does these products have any side-effects?
No, our products don't have any side-effects. These products are made using 100% natural standardized ingredients that are tested for efficacy and quality.
6. Can I get products private label/contract manufacture in my own label?

Yes. We are one of the top Contract Development and Manufacturing Organisation (CDMO) located in Noida, India. We have a global presence in 32 countries so far with 150+ registered products such as herbal capsules, tablets, syrups, gels, creams, syrups, balms, eye drops, nasal drops etc. We manufacture products for major B2B pharmaceutical companies, retailers and other international marketing companies who can easily get their products customised from us under their own brand name.
7. What all certifications we have?
On our website's Accreditations page, you can see a list of all of our certificates. The link is https://accreditation.suryaherbal.com/

8. What are the shipping charges?
We charge flat ₹70 (COD ₹100) for all shipments across India. Free shipping on all orders above ₹500. For international shipping charges, please email us at exports@suryaherbal.com