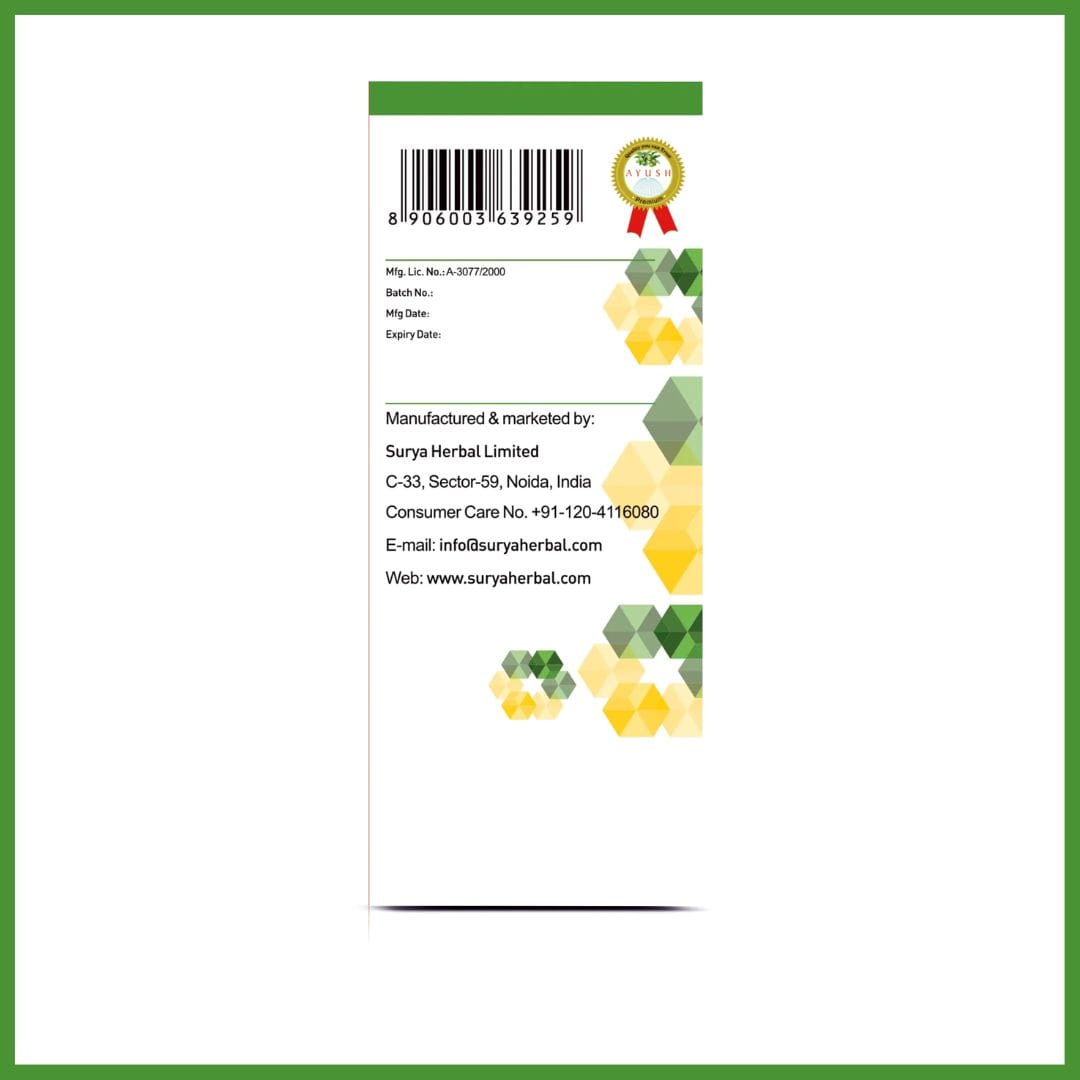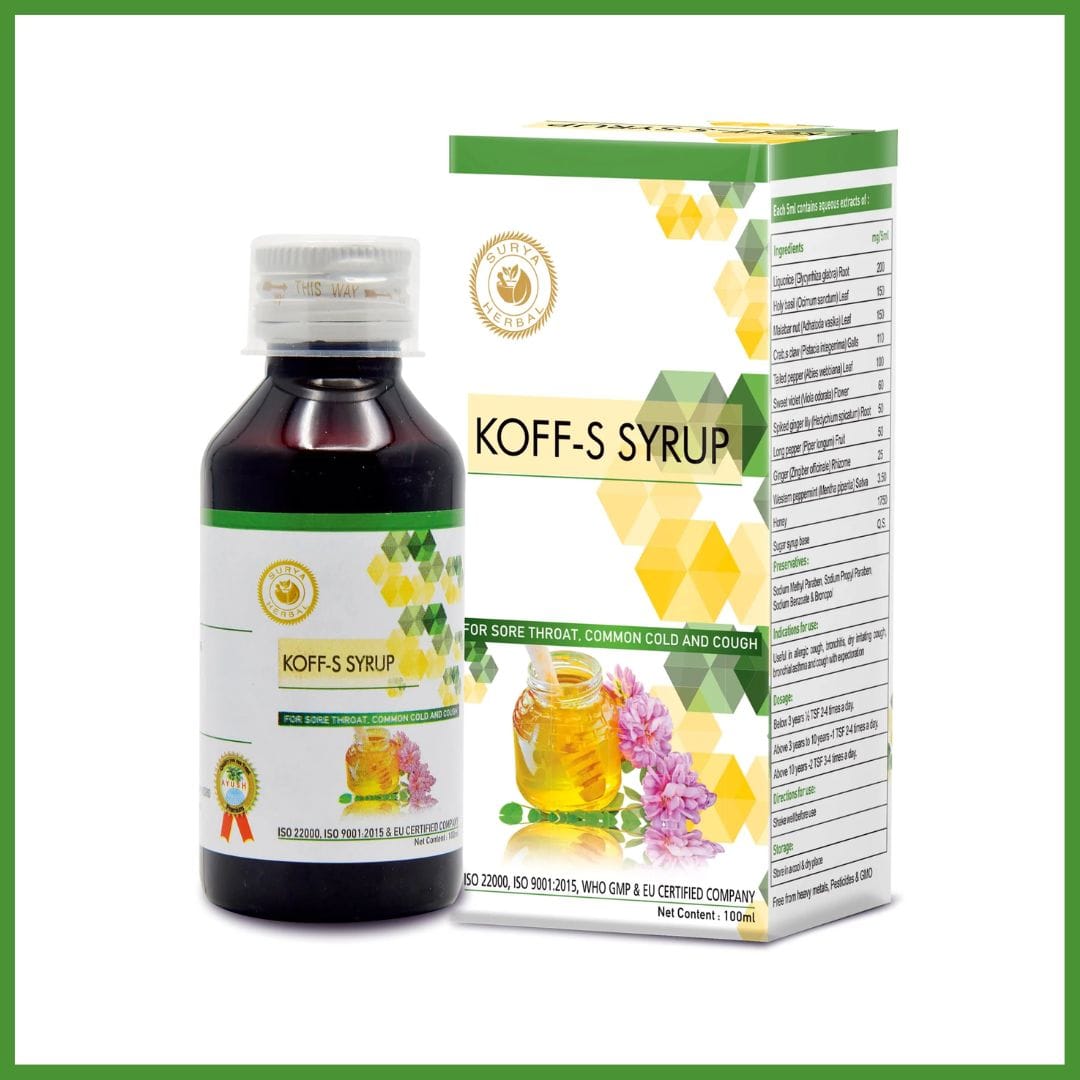 Surya Herbal Koff-S Syrup (100 ml): Natural Ayurvedic Cough Relief with Honey
---
Surya Herbal Koff-S Syrup with Honey (100ml)

Discover the natural way to soothe your throat with Surya Herbal's Koff-S Syrup. This authentic Ayurvedic formulation, enriched with honey, is meticulously crafted to provide relief from coughs without making you drowsy. And for your peace of mind, it's completely alcohol-free.

Key Ingredients:

Liquorice Root: A natural expectorant to clear mucus.
Holy Basil Leaf: Known for its respiratory benefits.
Malabar Nut Leaf: Traditionally used to relieve coughs.
Crab's Claw Galls: Believed to ease respiratory discomfort.
Tailed Pepper Leaf: Provides warmth and relief.
Sweet Violet Flower: Soothes the throat.
Spiked Ginger Lily Root: A renowned anti-inflammatory herb.
Long Pepper Fruit: Offers respiratory support.
Ginger Rhizome: Eases sore throats and coughs.
Western Peppermint Satva: Refreshes and cools the throat.
Key Benefits:
- Provides holistic care for coughs linked to the common cold.
- Targets mucus to clear the airways.
- Reduces throat congestion, making breathing easier.
- Aims to decrease the overall frequency of your cough.

Safety: 
Ensure you store this in a cool, dry place.
Always read and follow the label's instructions.
Keep this syrup away from the little ones for safety.

Recommended Dosage:
- Tiny tots (Under 3 years): A gentle 1/2 teaspoon 2-4 times daily.
- Little explorers (Ages 3 to 10): 1 teaspoon 2-4 times daily.
- Young adults and above (Over 10 years): 2 teaspoons 3-4 times daily.

FAQs: Surya Herbal Koff-S Syrup with Honey

1. What is Surya Herbal Koff-S Syrup with Honey?
Surya Herbal Koff-S Syrup is an Ayurvedic formulation designed to support cough management. It combines natural herbs to provide relief from cough and cold symptoms.

2. Does this syrup induce drowsiness?
No, Surya Herbal Koff-S Syrup is formulated to aid throat comfort without causing drowsiness.

3. Is there any alcohol in this syrup?
No, our formulation is completely free from alcohol, making it suitable for all age groups.

4. How often can I take this syrup?
For children under 3 years, the recommended dose is 1/2 teaspoon 2-4 times a day. For children aged 3 to 10, it's 1 teaspoon 2-4 times a day, and for individuals over 10 years, it's 2 teaspoons 3-4 times a day.

5. Are there any side effects?
This syrup is made from natural ingredients and is generally safe for use. However, if you notice any adverse reactions, discontinue use and consult your healthcare provider.

6. Can I use this alongside other medications?
Always consult with a healthcare professional before using Surya Herbal Koff-S Syrup with other medications to avoid potential interactions.

1. Are herbal products effective?
Yes, herbal products are considered effective. Herbal products are often overlooked, but there are many advantages to using them. Herbs and herbal products have been used for thousands of years all over the world for good reason: they have been shown to have positive effects on health without posing any significant risks.
According to the World Health Organization, around 80% of people still rely on traditional therapies, the majority of which are plant-based, as their primary source of health care.
2. How soon can I expect to notice the benefits of these products?

Herbs contain a wide variety of naturally occurring compounds. Some herbs' health benefits are felt almost immediately, while those of others are more gradual.
3. How do I know how much to use?
Each product comes with instructions on what is the suggested dosage. Kindly refer on the pack. You can also consult your physician for more information.
4. Are the products tested?
Yes, our products are tested in our in-house laboratory and at a third-party Independent Laboratory (Accredited by NABL). We only use natural herbal standardized ingredients that are tested for efficacy and quality.
5. Does these products have any side-effects?
No, our products don't have any side-effects. These products are made using 100% natural standardized ingredients that are tested for efficacy and quality.
6. Can I get products private label/contract manufacture in my own label?

Yes. We are one of the top Contract Development and Manufacturing Organisation (CDMO) located in Noida, India. We have a global presence in 32 countries so far with 150+ registered products such as herbal capsules, tablets, syrups, gels, creams, syrups, balms, eye drops, nasal drops etc. We manufacture products for major B2B pharmaceutical companies, retailers and other international marketing companies who can easily get their products customised from us under their own brand name.
7. What all certifications we have?
On our website's Accreditations page, you can see a list of all of our certificates. The link is https://accreditation.suryaherbal.com/

8. What are the shipping charges?
We charge flat ₹70 (COD ₹100) for all shipments across India. Free shipping on all orders above ₹500. For international shipping charges, please email us at exports@suryaherbal.com