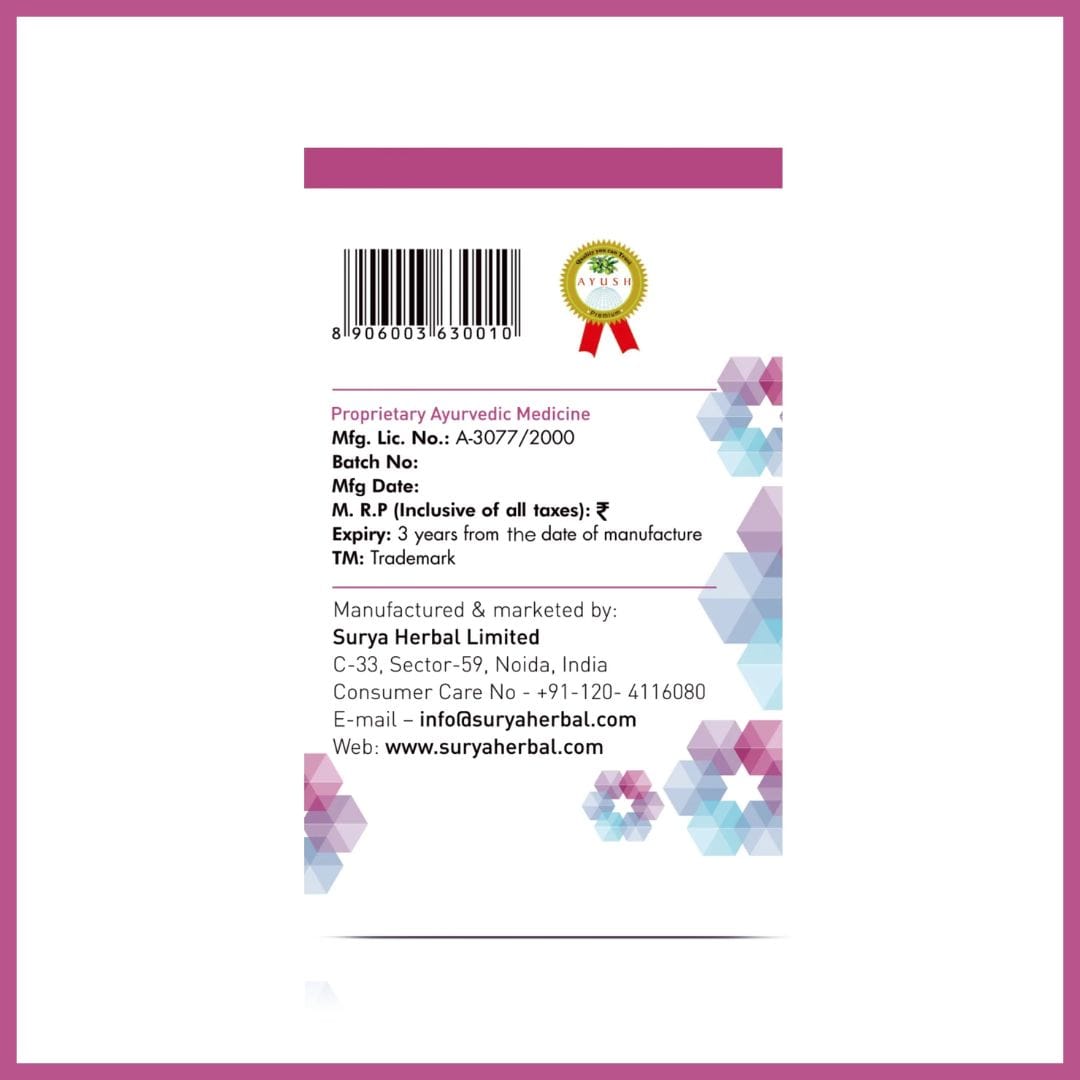 HerbRoot Lipexirid
---
Arjuna extract,Purified guggul, Garlic powder, Green tea extract, Punarnva extract, Amla extract
Surya Herbal HerbRoot Lipexirid Capsules (60 Capsules) are herbal supplements that help in healthy lipid management. It is used to lower cholesterol and reduce the risk of heart disease.
Key Ingredients:
Key Benefits:
It is used to lower cholesterol and to reduce the risk of heart disease
Lowering the amount of cholesterol reduces the chances of heart diseases and helps one remain healthier for longer
It supports a healthy cardiovascular system
Directions For Use:
1-2 capsules twice a day or as directed by the physician.
Safety Information: 
Store in a cool and dry place 
Keep out of the reach of children
1. Are herbal products effective?
Yes, herbal products are considered effective. Herbal products are often overlooked, but there are many advantages to using them. Herbs and herbal products have been used for thousands of years all over the world for good reason: they have been shown to have positive effects on health without posing any significant risks.
According to the World Health Organization, around 80% of people still rely on traditional therapies, the majority of which are plant-based, as their primary source of health care.
2. How soon can I expect to notice the benefits of these products?

Herbs contain a wide variety of naturally occurring compounds. Some herbs' health benefits are felt almost immediately, while those of others are more gradual.
3. How do I know how much to use?
Each product comes with instructions on what is the suggested dosage. Kindly refer on the pack. You can also consult your physician for more information.
4. Are the products tested?
Yes, our products are tested in our in-house laboratory and at a third-party Independent Laboratory (Accredited by NABL). We only use natural herbal standardized ingredients that are tested for efficacy and quality.
5. Does these products have any side-effects?
No, our products don't have any side-effects. These products are made using 100% natural standardized ingredients that are tested for efficacy and quality.
6. Can I get products private label/contract manufacture in my own label?

Yes. We are one of the top Contract Development and Manufacturing Organisation (CDMO) located in Noida, India. We have a global presence in 32 countries so far with 150+ registered products such as herbal capsules, tablets, syrups, gels, creams, syrups, balms, eye drops, nasal drops etc. We manufacture products for major B2B pharmaceutical companies, retailers and other international marketing companies who can easily get their products customised from us under their own brand name.
7. What all certifications we have?
On our website's Accreditations page, you can see a list of all of our certificates. The link is https://accreditation.suryaherbal.com/

8. What are the shipping charges?
We charge flat ₹70 (COD ₹100) for all shipments across India. Free shipping on all orders above ₹500. For international shipping charges, please email us at exports@suryaherbal.com