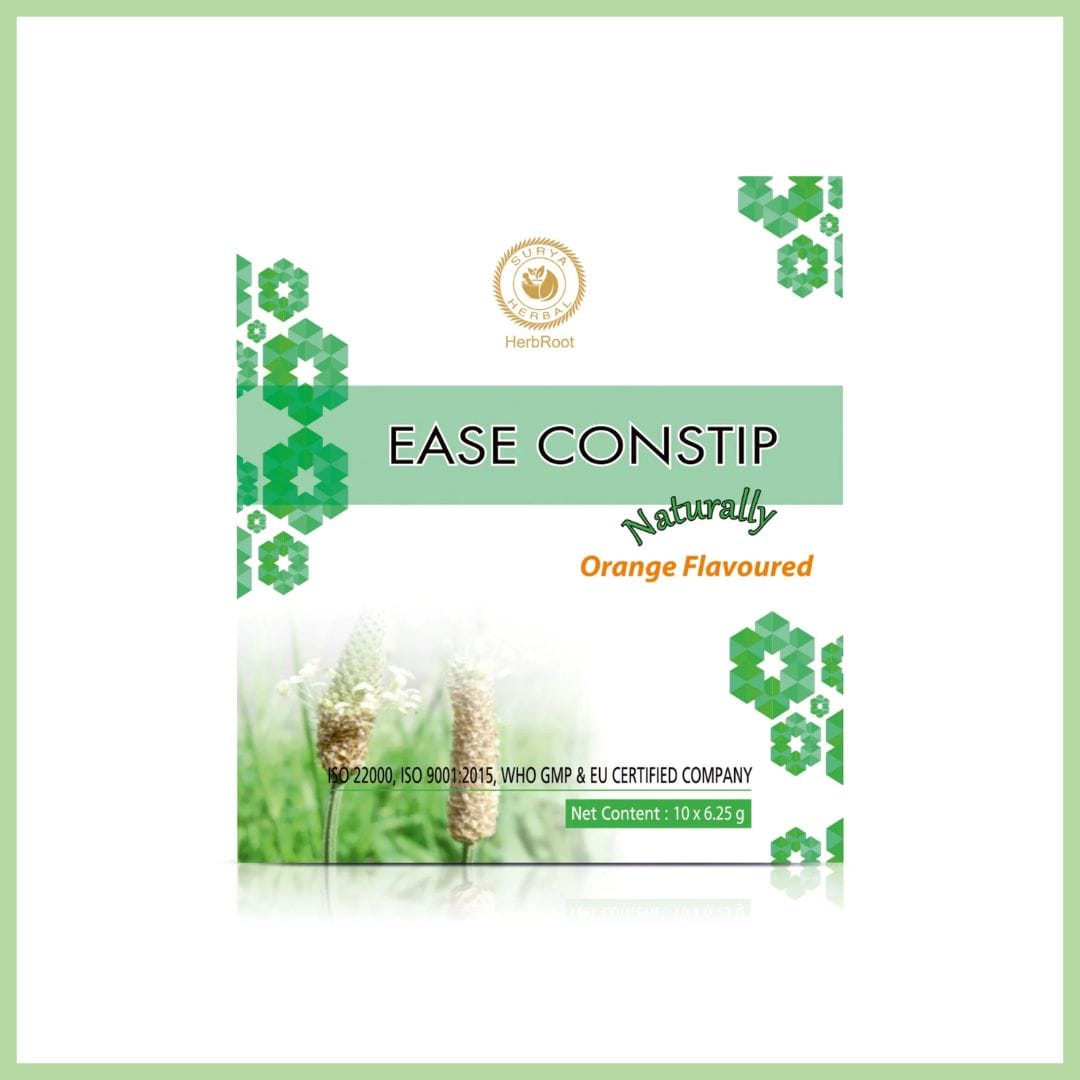 Surya Herbal Ease Constip Naturally Powder (57.5 gm x 10 sachets) - Natural Bowel Relief
---
Discover the natural remedy for constipation and achieve regular bowel movements with Surya Herbal Ease Constip Naturally Powder. A blend of choice herbs, it works gently yet efficiently to balance your digestive system.
Key Ingredients:
Ispaghula Husk (85%): A renowned fiber source for smooth digestion.
Chebulic Myrobalan Extract: Helps in relieving digestive issues.
Cassia Angustifolia Leaf Extract: Known for its laxative properties.
Golden Raintree Extract: Supports intestinal health.
Indian Jalap Extract: Aids in promoting bowel movement.
Benefits:
Provides quick and lasting relief from constipation.
Eases stool consistency for painless elimination.
Moistens and smoothens the intestinal walls ensuring effortless stool passage.
Encourages consistent and healthy bowel patterns.
Safety Guidelines:
Carefully read the label before use.
Store in a cool, dry environment.
Ensure it remains out of the hands of children.
Recommended Usage:
Children below 6 years: Consume half a sachet daily.
Children aged 6 to 12 years: Take 1 sachet daily.
Adults: Ingest 1 to 2 sachet(s) daily or as directed by a healthcare specialist.
Frequently Asked Questions (FAQs) for Surya Herbal Ease Constip Naturally Powder
1. Can this powder be taken on an empty stomach?
Yes, the powder can be taken on an empty stomach for optimal results. However, it's always best to follow the recommended usage or consult a healthcare professional.
2. Are there any side effects?
Surya Herbal Ease Constip Naturally Powder is made from natural ingredients. Typically, it doesn't cause any adverse effects. However, some individuals might experience mild stomach discomfort. If any unusual symptoms arise, discontinue use and consult a physician.
3. Is this product safe for pregnant or breastfeeding women?
If you're pregnant or breastfeeding, it's essential to consult with a healthcare professional before introducing any new supplements to your diet.
4. Can I use this product alongside other medications?
It's advisable to discuss with a healthcare professional if you're currently on any medications to ensure no interactions occur.
5. How long should I use this product for best results?
Consistent use will provide the best results. However, the duration might vary depending on the severity of constipation. It's recommended to follow a physician's advice on the duration of use.
6. Does this powder have a specific taste or flavor?
The powder might have a mild herbal taste due to the natural ingredients, but it's generally easy to consume.
7. How should I store the powder?
Store the product in a cool and dry place, away from direct sunlight.
8. Is it suitable for all age groups?
Yes, it has recommendations for children as young as below 6 years and for adults. Always follow the recommended dosage for each age group.
9. Can I mix the powder with juice or smoothies?
Yes, you can mix it with juice, smoothies, or even water. The key is to ensure it's thoroughly mixed for effective results.
10. How soon can I expect results after consuming the powder?
Results may vary among individuals. Some might experience relief after a single use, while others might need consistent usage over several days. Always follow the recommended dosage and consult a physician if the symptoms persist.
1. Are herbal products effective?
Yes, herbal products are considered effective. Herbal products are often overlooked, but there are many advantages to using them. Herbs and herbal products have been used for thousands of years all over the world for good reason: they have been shown to have positive effects on health without posing any significant risks.
According to the World Health Organization, around 80% of people still rely on traditional therapies, the majority of which are plant-based, as their primary source of health care.
2. How soon can I expect to notice the benefits of these products?

Herbs contain a wide variety of naturally occurring compounds. Some herbs' health benefits are felt almost immediately, while those of others are more gradual.
3. How do I know how much to use?
Each product comes with instructions on what is the suggested dosage. Kindly refer on the pack. You can also consult your physician for more information.
4. Are the products tested?
Yes, our products are tested in our in-house laboratory and at a third-party Independent Laboratory (Accredited by NABL). We only use natural herbal standardized ingredients that are tested for efficacy and quality.
5. Does these products have any side-effects?
No, our products don't have any side-effects. These products are made using 100% natural standardized ingredients that are tested for efficacy and quality.
6. Can I get products private label/contract manufacture in my own label?

Yes. We are one of the top Contract Development and Manufacturing Organisation (CDMO) located in Noida, India. We have a global presence in 32 countries so far with 150+ registered products such as herbal capsules, tablets, syrups, gels, creams, syrups, balms, eye drops, nasal drops etc. We manufacture products for major B2B pharmaceutical companies, retailers and other international marketing companies who can easily get their products customised from us under their own brand name.
7. What all certifications we have?
On our website's Accreditations page, you can see a list of all of our certificates. The link is https://accreditation.suryaherbal.com/

8. What are the shipping charges?
We charge flat ₹70 (COD ₹100) for all shipments across India. Free shipping on all orders above ₹500. For international shipping charges, please email us at exports@suryaherbal.com