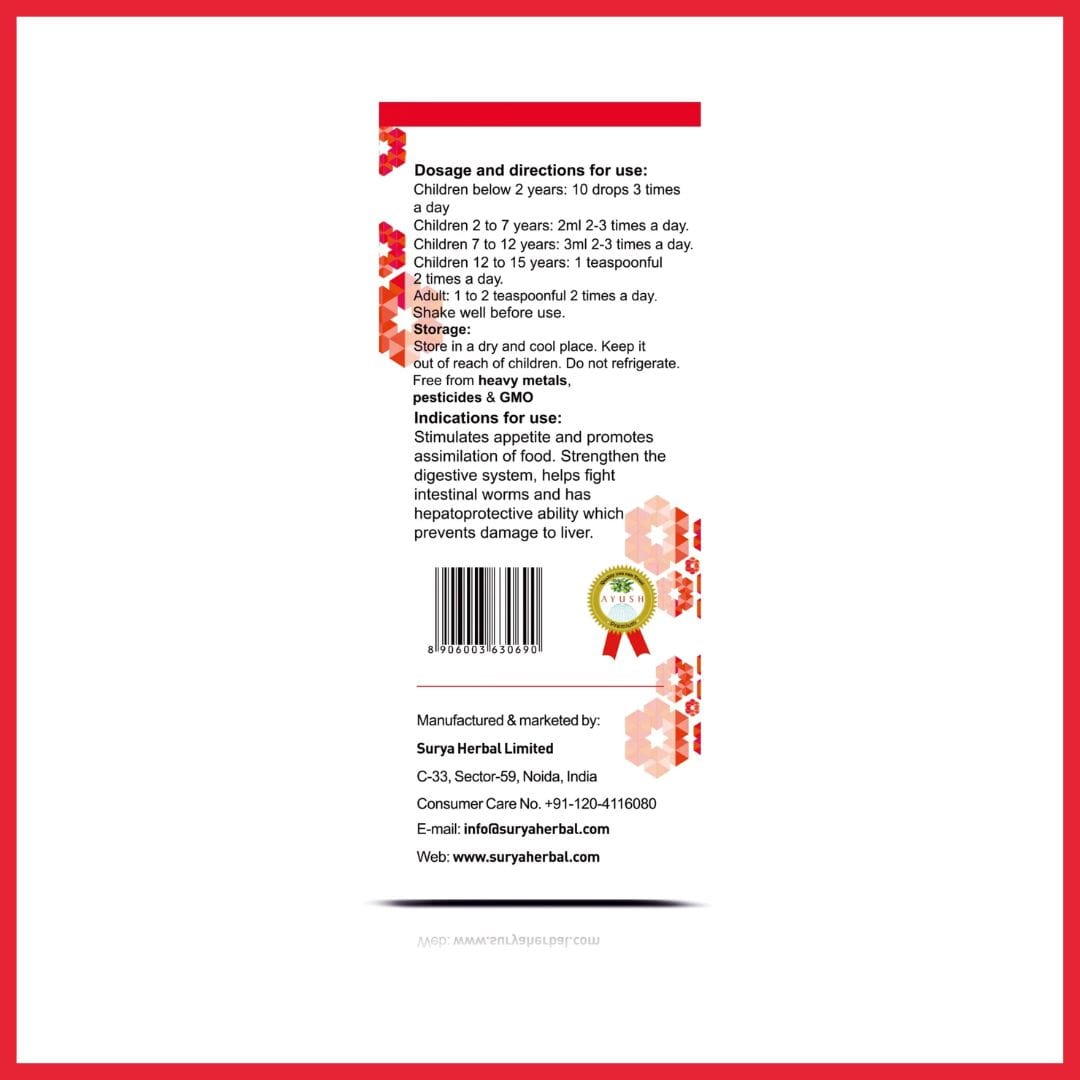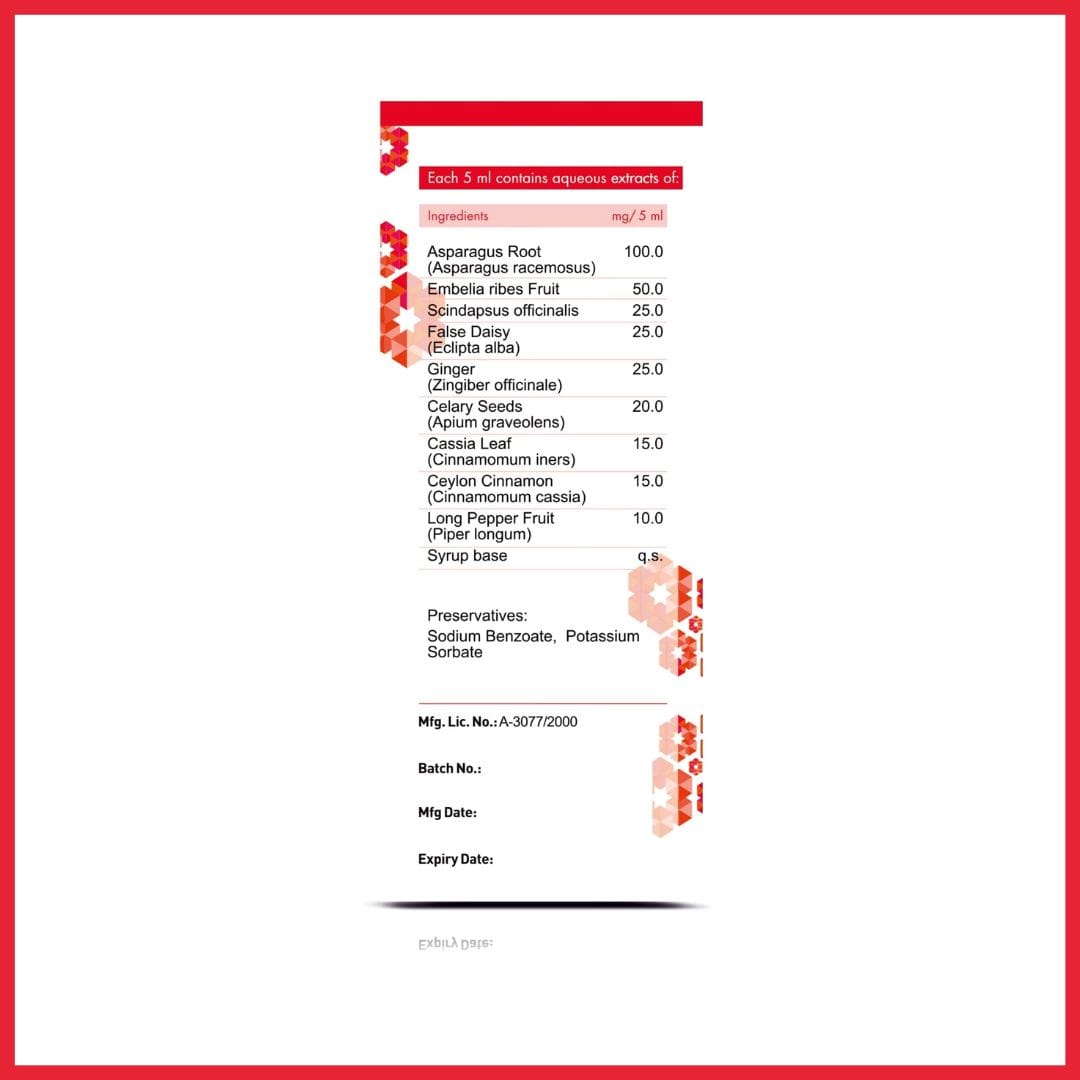 Bon-Appeti-Up Syrup (200ml): Boost Appetite & Digestion Naturally
---
Surya Herbal Bon-Appeti-Up Syrup (200ml)

Rediscover the joy of eating and optimize digestive health with Surya Herbal Bon-Appeti-Up Syrup. Formulated with a symphony of nature's finest digestive herbs, this elixir is tailored to stimulate appetite and aid in the thorough assimilation of food.

Key Ingredients:

Asparagus Root (Shatavari): Known for its rejuvenating properties.
Embelia ribes Fruit (Vidanga): A potent remedy against intestinal worms.
Scindapsus Officinalis (Gajapippali): Advocates for overall digestive wellness.
False Daisy (Bhringraj): Champions liver health and efficient digestion.
Ginger (Adrak): Universally recognized as a digestive stimulant.
Celery Seeds (Ajmud): Enhances digestion and combats bloating.
Cassia Leaf (Tejpatra): Aids in ensuring regular bowel movements.
Ceylon Cinnamon (Dalchini): Fosters digestion and reduces gassy discomforts.
Long Pepper Fruit (Pippali): Amplifies digestive processes and mitigates stomach issues
Key Benefits:
 Kindles the appetite, ensuring you savor every meal.
 Facilitates the comprehensive assimilation of nutrients from food.
 Strengthens the digestive tract, promoting seamless digestion.
 Doubles as an effective deterrent against intestinal worms.
Dosage Recommendations:
- Children below 2 years: Administer 10 drops, 3 times a day.
- Children aged 2 - 7 years: Provide 2 ml, 2-3 times daily.
- Children aged 7 to 12 years: Dispense 3 ml, 2-3 times a day.
- Children aged 12 to 15 years: Offer 1 teaspoonful, twice daily.

Safety Information:
- Prioritize reading the label before use.
- Store in a temperate, dry location away from direct sun exposure.
- Always ensure it's safely out of children's reach.

FAQs: Surya Herbal Bon-Appeti-Up Syrup

1. What is the primary purpose of the Bon-Appeti-Up Syrup?
-Bon-Appeti-Up Syrup is formulated to naturally stimulate appetite in kids, strengthen the digestive system, aid in the assimilation of food, and combat intestinal worms.

2. Are there any artificial additives in the syrup?
- No, Surya Herbal Bon-Appeti-Up Syrup is a 100% herbal solution made from natural ingredients like Shatavari (Asparagus), Adrak (Ginger), and other traditional herbs.

3. Is it suitable for children of all ages?
- The syrup is designed for children, with specific dosage recommendations for different age groups, ranging from below 2 years up to 15 years. Always follow the prescribed dosage.

4. Are there any side effects?
Surya Herbal Bon-Appeti-Up Syrup is formulated with natural ingredients traditionally used in Ayurveda. Generally, it does not have any known side effects. However, if you notice any adverse reactions, discontinue use and consult a healthcare professional.

5. Can it be used alongside other medications or supplements?
-If your child is on other medications or supplements, it's essential to consult with a pediatrician before introducing the Bon-Appeti-Up Syrup to ensure no adverse interactions.

6. How soon can one expect to see results?
- The time frame for noticeable results can vary based on individual factors. Some children may show improvements in appetite and digestion within a few days, while for others, it might take a couple of weeks. For best results, maintain consistent usage as directed.

7. Is the syrup only for kids with appetite issues, or can it be used for general health benefits?
- While primarily designed to stimulate appetite in kids, the rich blend of Ayurvedic ingredients also offers general digestive benefits. It can be used to strengthen the digestive system, improve nutrient absorption, and maintain overall gut health.


1. Are herbal products effective?
Yes, herbal products are considered effective. Herbal products are often overlooked, but there are many advantages to using them. Herbs and herbal products have been used for thousands of years all over the world for good reason: they have been shown to have positive effects on health without posing any significant risks.
According to the World Health Organization, around 80% of people still rely on traditional therapies, the majority of which are plant-based, as their primary source of health care.
2. How soon can I expect to notice the benefits of these products?

Herbs contain a wide variety of naturally occurring compounds. Some herbs' health benefits are felt almost immediately, while those of others are more gradual.
3. How do I know how much to use?
Each product comes with instructions on what is the suggested dosage. Kindly refer on the pack. You can also consult your physician for more information.
4. Are the products tested?
Yes, our products are tested in our in-house laboratory and at a third-party Independent Laboratory (Accredited by NABL). We only use natural herbal standardized ingredients that are tested for efficacy and quality.
5. Does these products have any side-effects?
No, our products don't have any side-effects. These products are made using 100% natural standardized ingredients that are tested for efficacy and quality.
6. Can I get products private label/contract manufacture in my own label?

Yes. We are one of the top Contract Development and Manufacturing Organisation (CDMO) located in Noida, India. We have a global presence in 32 countries so far with 150+ registered products such as herbal capsules, tablets, syrups, gels, creams, syrups, balms, eye drops, nasal drops etc. We manufacture products for major B2B pharmaceutical companies, retailers and other international marketing companies who can easily get their products customised from us under their own brand name.
7. What all certifications we have?
On our website's Accreditations page, you can see a list of all of our certificates. The link is https://accreditation.suryaherbal.com/

8. What are the shipping charges?
We charge flat ₹70 (COD ₹100) for all shipments across India. Free shipping on all orders above ₹500. For international shipping charges, please email us at exports@suryaherbal.com