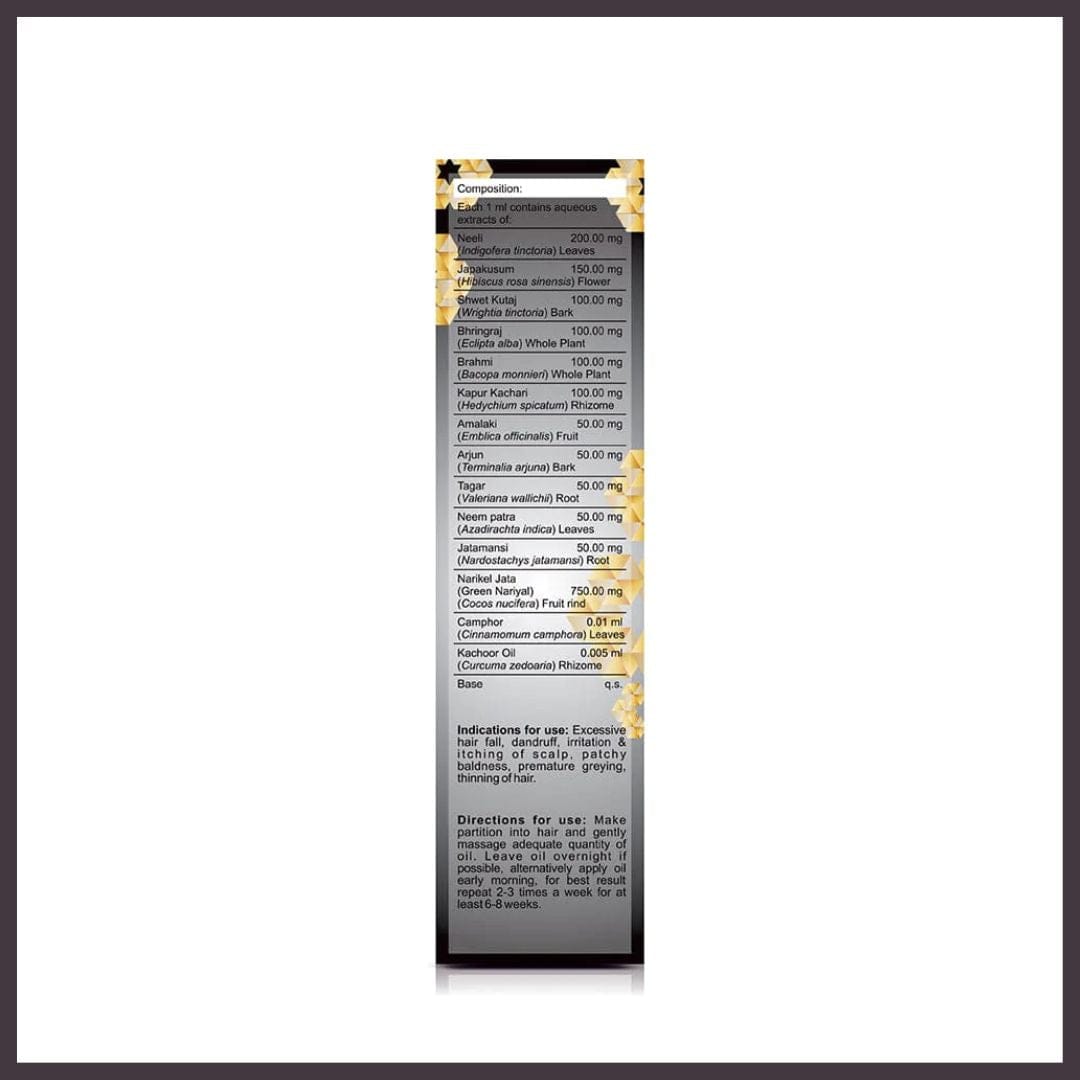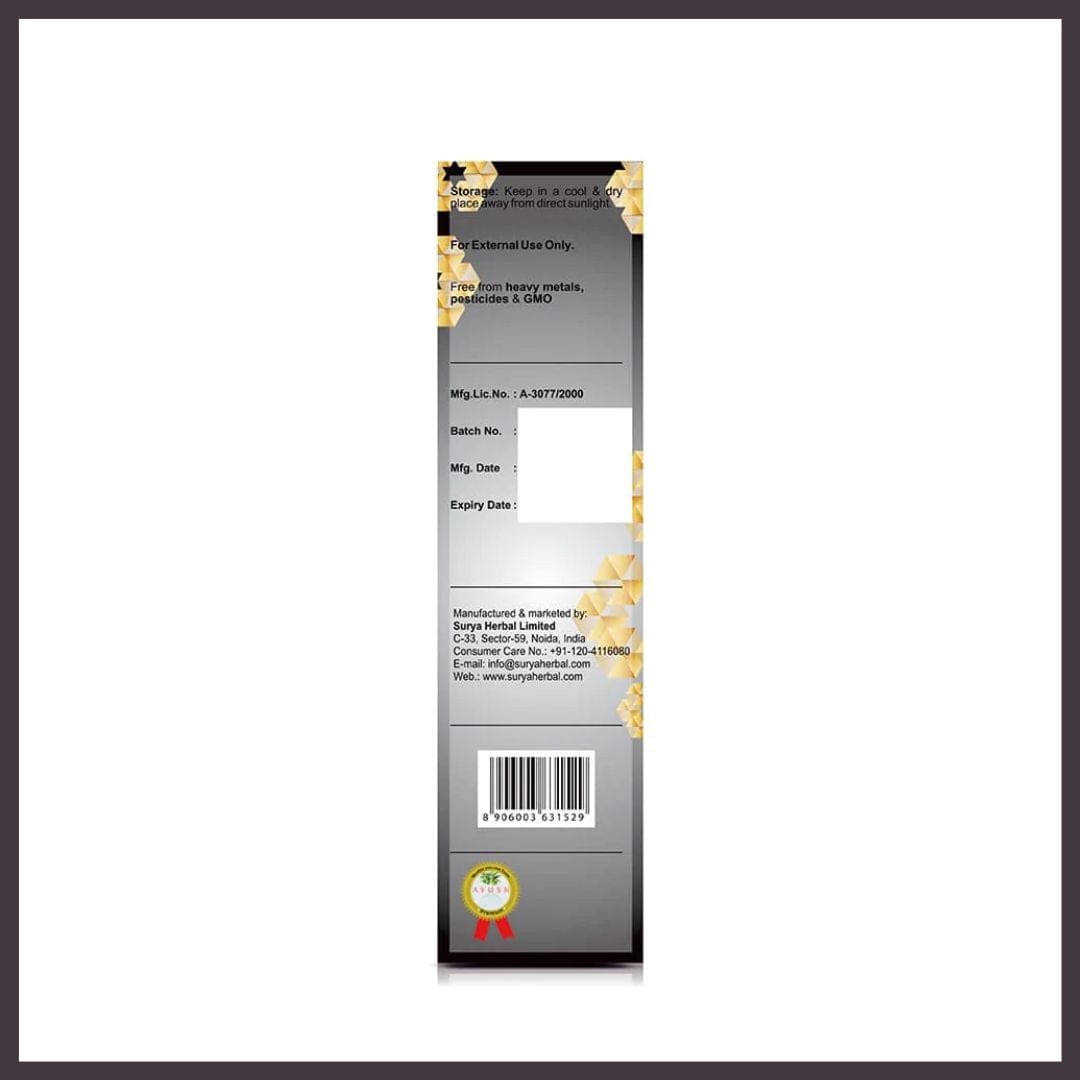 Surya Herbal ZulfiHealth Hair Regrowth & Anti-Hairloss Oil (100ml): Revitalize Your Locks
---
Give your hair the care it deserves with Surya Herbal's ZulfiHealth Oil. Infused with a rich array of natural ingredients, this oil not only stimulates regrowth but also combats various hair woes.
Key Ingredients:
Indigo Leaf (Neeli): Known for its natural dyeing & conditioning properties.
Shoe Flower (Japakusum): Strengthens the hair follicles and promotes growth.
Sweet Indrajao Bark (Shwet Kutaj): Helps reduce dandruff and scalp irritations.
Thistles Whole Plant (Bhringraj): Renowned for its hair darkening and growth-promoting properties.
Bacopa Whole Plant (Brahmi): Improves hair density and strengthens hair roots.
Spiked Ginger Lily Rhizome (Kapur Kachari): Contains antioxidants that enhance hair health.
Indian Gooseberry Fruit (Amalaki): Boosts overall scalp health, minimizing hair loss.
Arjuna Bark: Fortifies hair strands, preventing breakage.
Garden Valerian Root (Tagar): Calms scalp irritations and reduces inflammation.
Margosa Tree Leaf (Neem Patra): A natural remedy for hair lice and scalp infections.
Spikenard Root (Jatamansi): Known for its hair growth and hair darkening benefits.
Coconut Fruit Rind (Narikel Jata): Moisturizes the scalp, preventing dandruff and itchiness.
Camphor Leaf: Provides a cooling effect, reducing scalp irritations.
Zedoary Rhizome (Kachoor Oil): Boosts hair texture, leaving it soft and silky.
Key Benefits:
Prevents excessive hair fall and dandruff.
Alleviates irritation and itching of the scalp.
Targets patchy baldness and premature graying.
Reverses thinning of hair for a voluminous look.
Safety Information:
Please read the label to ensure full ingredient transparency.
Store in a cool, dry place, away from direct sunlight.
Exclusively for external use.
Directions for Use: For optimal results, massage a generous quantity of the oil onto the scalp. To amplify its efficacy, let it soak overnight. Consistently apply 2-3 times a week for a span of 6-8 weeks. Embrace luscious, healthy hair with regular use.
FAQs for Surya Herbal ZulfiHealth Oil:

What is Surya Herbal ZulfiHealth Oil primarily used for?
Surya Herbal ZulfiHealth Oil is formulated to facilitate the regrowth of hair and to prevent hair loss. It also helps in tackling issues like dandruff, irritation and itching of the scalp, patchy baldness, premature graying, and thinning of hair.

How often should I use this oil for best results?
Answer: For optimal results, it is recommended to gently massage the oil on the scalp 2-3 times a week and if possible, leave it overnight. Use consistently for at least 6-8 weeks.

Are there any side effects?
This oil is formulated from natural ingredients and is intended for external use only. However, if you experience any irritation or adverse reaction, stop using the product and consult a healthcare professional.

Can this oil be used on colored or chemically treated hair?
Yes, Surya Herbal ZulfiHealth Oil is suitable for all hair types, including colored or chemically treated hair. However, always do a patch test first to ensure there's no reaction.

Can it be used by both men and women?
Absolutely! Surya Herbal ZulfiHealth Oil is suitable for both men and women looking to address hair-related concerns.

How long before I see noticeable results?
While results vary from individual to individual, with regular use, one might start noticing improvements in hair health and reduction in hair fall within 6-8 weeks.

Can I apply the oil post-hair wash?
Yes, you can apply Surya Herbal ZulfiHealth Oil post-hair wash, but it's most effective when left on the scalp for an extended period, such as overnight.

Does this oil leave a greasy residue?
The oil is formulated to be easily absorbed into the scalp. However, the quantity used and individual hair types can impact the residue. Adjust the amount based on your hair type for best results.
1. Are herbal products effective?
Yes, herbal products are considered effective. Herbal products are often overlooked, but there are many advantages to using them. Herbs and herbal products have been used for thousands of years all over the world for good reason: they have been shown to have positive effects on health without posing any significant risks.
According to the World Health Organization, around 80% of people still rely on traditional therapies, the majority of which are plant-based, as their primary source of health care.
2. How soon can I expect to notice the benefits of these products?

Herbs contain a wide variety of naturally occurring compounds. Some herbs' health benefits are felt almost immediately, while those of others are more gradual.
3. How do I know how much to use?
Each product comes with instructions on what is the suggested dosage. Kindly refer on the pack. You can also consult your physician for more information.
4. Are the products tested?
Yes, our products are tested in our in-house laboratory and at a third-party Independent Laboratory (Accredited by NABL). We only use natural herbal standardized ingredients that are tested for efficacy and quality.
5. Does these products have any side-effects?
No, our products don't have any side-effects. These products are made using 100% natural standardized ingredients that are tested for efficacy and quality.
6. Can I get products private label/contract manufacture in my own label?

Yes. We are one of the top Contract Development and Manufacturing Organisation (CDMO) located in Noida, India. We have a global presence in 32 countries so far with 150+ registered products such as herbal capsules, tablets, syrups, gels, creams, syrups, balms, eye drops, nasal drops etc. We manufacture products for major B2B pharmaceutical companies, retailers and other international marketing companies who can easily get their products customised from us under their own brand name.
7. What all certifications we have?
On our website's Accreditations page, you can see a list of all of our certificates. The link is https://accreditation.suryaherbal.com/

8. What are the shipping charges?
We charge flat ₹70 (COD ₹100) for all shipments across India. Free shipping on all orders above ₹500. For international shipping charges, please email us at exports@suryaherbal.com